Kneehab XP is the only product on the market to incorporate multipath technology, allowing all 4 electrodes to systematically work together, allowing ultimate muscle rehabilitation. The use of the unique kneehab garment not only allows for minimal user error which can be found in standalone or dual path electrode devices, but also ensures the quadriceps continue to receive the full support of a garment throughout the treatment period. There is no comparable device on the market.
Kneehab XP works by re-educating and strengthening the quadriceps (thigh muscle) through cycles of contraction and relaxation. It can be used to improve joint stability and treat quadriceps atrophy resulting from a wide range of conditions affecting the knee including ligament injury such as ACL, dislocation, fracture, osteoarthritis and stroke. It can be used to help avoid or delay knee surgery and where surgery is required it can accelerate post-operative rehabilitation.
Kneehab XP can help if:
You are undergoing knee surgery, such as a knee replacement, arthroscopy (scope), ligament, meniscal or leg fracture repair. Kneehab XP can help you activate your quadriceps muscle, improving your pre-operative condition and aiding your post-operative recovery.
You are living with knee pain, arthritis of the knee, or thigh muscle waste. Kneehab XP will help to strengthen the quadriceps muscles, stabilising the knee and allowing you to enjoy your daily activities.
You have suffered a serious knee injury, such as that often encountered when training or playing sport. Elite sportspeople such as Phil Jones (Manchester Utd / England), David Wallace (Munster / Ireland) and Christopher Dean (UK Winter Olympic gold medallist) have used Kneehab XP as part of their rehabilitation from serious knee injuries.
What Conditions can Kneehab XP Treat?
Anterior Cruciate Ligament (ACL) Reconstruction
Total Knee Replacement
Anterior Knee Pain
Post-Fracture
Patella Dislocation
Arthroscopy
Acute and Chronic Arthritis
Post-Stroke
General Weakness and Incapacity
Here are some hints to help you get the best from your Kneehab:
1) Each treatment lasts 20 minutes, and Kneehab works best when it is used 2 to 3 times per day and 5 days per week.
2) Make sure your skin is clean and dry before applying the Kneehab garment to your thigh so that the GelPads can effectively transmit Kneehab's proprietary Multipath™ signal.
3) The Gelpads need changing from time to time. Your system comes with 1 set of GelPads. Kneehab will tell you when it is time to replace the GelPads by displaying a flashing triangle on the screen or by beeping.
4) When you change the GelPads, we recommend that you clean the metal studs on the garment with a damp cloth before applying the new GelPads. This ensures the stimulation stays comfortable for you.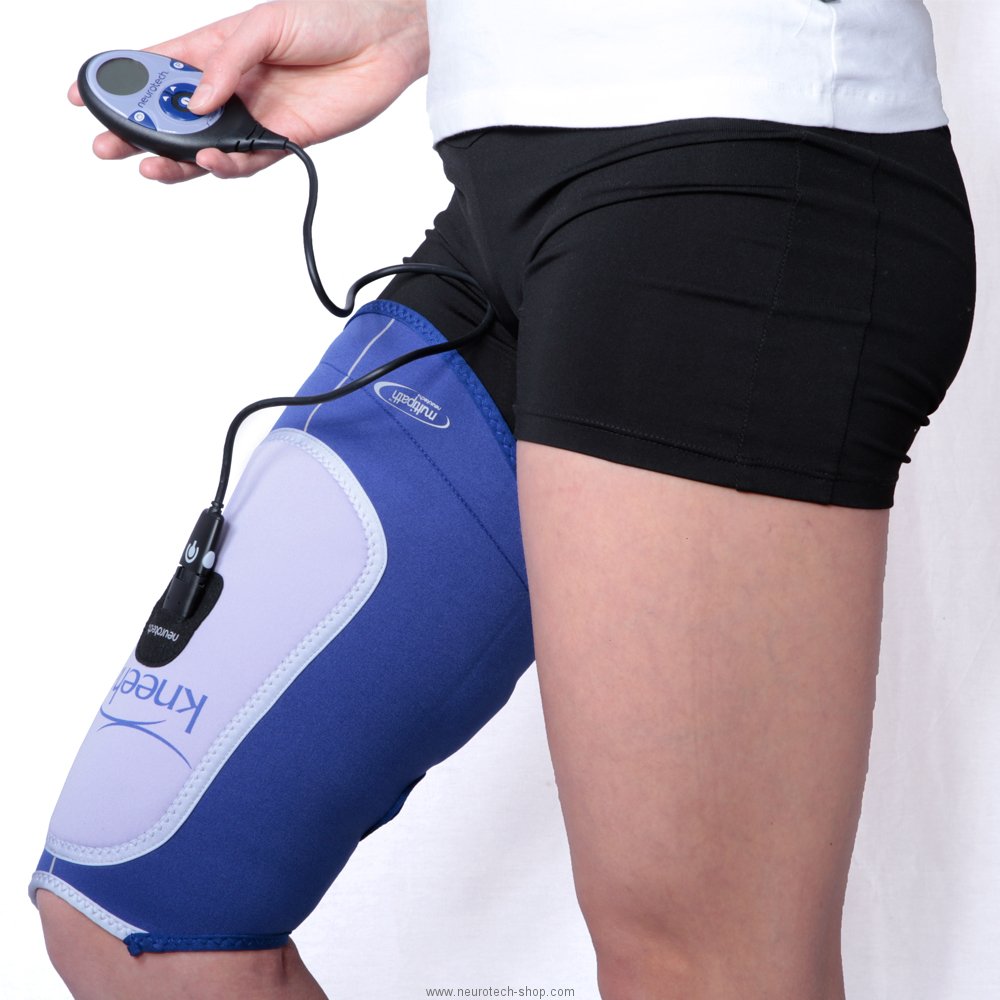 Kneehab XP
Average rating:
0 reviews